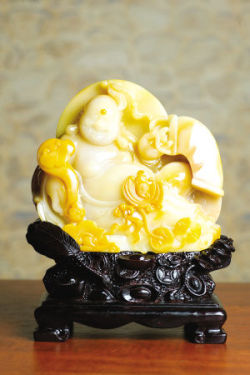 Yunnan Longling Huanglong jade is a high-silica jade, the highest quality jade species discovered after Xinjiang Hetian jade and Burmese jade. Because of its production in Longling, and yellow color, it was named. Huang Longyu's colors "Huang Rujin, Hong Ru Xue, Bai Rubing, Wu Ru Mo." Its hardness is comparable to that of jade and has a texture comparable to that of jade, which is delicate and crystal clear. Its appearance made up for the shortcomings of the lack of yellow and red jade species from ancient times to the present. It is a rich, totem, and beautiful one. The treasure of the town shop of Tianyi Pavilion is a piece of jade kiln material of jade kiln that is more than 100 million years old. The so-called "Ge kiln pattern" refers to a decorative appearance of the natural enamel crack formed on the surface by Huanglong jade jade material, which is very similar to the "glaze crack" fired by the "Ge kiln" in the ancient Song and Yuan dynasties in China. This is a dense layer of chalcedony on the surface of the jade material. It is formed by repeated thermal expansion and contraction and it is not broken. This type of jade material is rare and extremely difficult to mined, and because of its unique and unique taste, it makes it a rare natural and rare jade material. It is a treasure of Huanglong Yuyu ornamental stone.

Expert introduction, Huang Longyu has "four perfect characteristics": First, the physical and chemical properties are extremely stable and tough mechanical properties, toughness exceeds the crystal and the hardness is close to jade, jade is extremely good; second, high-quality Huanglong jade is warm and shiny, Runlong Shuiling is a good water species. Third, Huang Longyu takes the warm and rich colors of Zhenghuang, Xianhong, and Orange as the keynotes. It is cold, warm, beautiful, and beautiful, and is full of jade; Fourth, regardless of original stone appreciation, Or carved jewelry, crafts, Huanglong Yu can meet the needs of jade play.

Since 2004, Huang Longyu has gradually become a collector's vision as a rising star in the jade industry. It is understood that although Huang Longyu has not been in existence for a long time, the proven reserve is only 386,600 tons, and the utilization rate is 5%. In particular, Xiaoheishu jade material has been extinct, causing the price to rise nearly 10,000 times in a few short years. In addition to this year, Huang Longyu obtained national identity certification and entered the same rank as Jade and Hetian jade. The collection of Huang Longyu's value-added protection has become a reality. For beginner collectors, you can start with some small, low-priced, but with a good carving and texture of Huanglongyu hand pieces, pendants, etc., after a period of contact, you can choose to buy jade material (the original stone) .



Wall Mirror is the mirror withour frame, we have Antique Decorative Mirror, wall mirror, Round Antique Silver Wall Mirror.the material is glass,the size can as your requirement.

We developed many styles decorative wall mirror for your choose.the shape is charming,and quality is top grade,price is competitive.









Wall mirror suit for home decoration and hotel.

Our

Wall Mirror

is good in quality and competitive in price. we are manufacturer and supplier of Wall Mirror following your specific requirement. we are looking forward to your e-mail and establishing cooperative relationship with you! we would provide professional Wall Mirror with good services for you!

Wall Mirror

Antique Decorative Mirror, Wall Mirror, Round Antique Silver Wall Mirror

Ningbo Binli Arts & Crafts Co.,Ltd , http://www.blframes.com